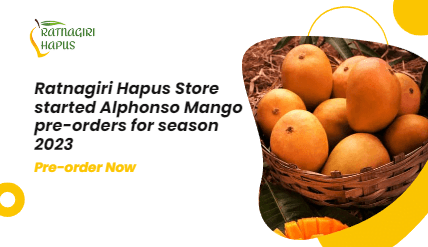 Ratnagiri Hapus Store started Alphonso Mango pre-orders for Season 2023
Ratnagiri Hapus Store, a popular mango store in Maharashtra, India. Has already started taking Alphonso Mango pre-orders for the upcoming 2023 season. This may seem like a strange move, but it is not uncommon for mango aficionados. Who want to get their hands on the best quality fruit to plan ahead.
Alphonso mangoes, also known as Hapus in the local language, are a special variety that is grown mainly in the Ratnagiri and Devgad districts of Maharashtra. They are famous for their sweet, juicy pulp, rich aroma, and bright yellow-orange color. These mangoes have a short season, typically from March to May, and are in high demand across the country.
Ratnagiri Hapus Store has been in the business of selling and now started Alphonso mango pre-orders. Over last years and has a loyal customer base that eagerly awaits the start of each season. The store sources its mangoes directly from the farmers and ensures that they are of the highest quality. The pre-ordering system allows customers to reserve their mangoes in advance, ensuring that they get the first pick of the crop. According to the store's website, the pre-ordering process involves placing a minimum order of mangoes.
While pre-ordering may seem like an extreme measure, it is due to the love that people have for Alphonso mangoes. For those who have never tasted this delicious fruit, it may be hard to understand why people are willing to plan two years in advance. But for those who have experienced the unique flavor and aroma of Hapus, it is a no-brainer. And for the Ratnagiri Hapus Store, it is a smart business move that ensures their customers are happy and satisfied.