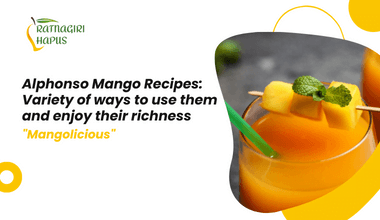 Alphonso Mango Recipes: Variety of ways to use them and enjoy their richness
 Mango is a juicy, sweet and refreshed fruit that comes with plenty of vitamins and minerals. Even though it is available all year round, the peak season for Alphonso mangoes is during the summer. You can find different varieties of mangoes at local markets and grocery stores. There are sweet, semi-sweet, and sour ones. Depending on your preference, you can also choose from green, yellow or red ones.
If you're thinking about how to use these yummy Alphonso Mango Recipes in your meals so you can get more nutrients and benefits from them…you've come to the right place! Keep reading to know more about some amazing mango recipes you can try out now.
Alphonso Mango Shakes and Smoothie, Mango Baked Dishes, Mango Curry, Mango Salad and Mango Stuffed Parantha
Recipes of Alphonso mango are delicious and can be used in salads, soups, curries, and desserts. These fruits are great for smoothies, salads, curries, and dals, as well as for making many other dishes. You can also enjoy the different varieties of mangoes and their unique tastes. From sweet to semi-sweet, there is something for everyone. These tropical fruits are also a great source of vitamins and minerals, so you can enjoy their richness in these mango recipes.